INSTABILITY 2
As paragliders have developed, so have the techniques required to fly them safely through turbulence and during radical manouvres. Instability 2 is an essential update for all pilots wanting to fly at their safest.
This DVD and accompanying booklet will guide you step-by step through some of the most critical lessons you'll need as a paraglider pilot.
Instability 2 is not a 'do-it-yourself' instructional guide. To learn any of the manouvres outlined on this DVD, you should be under instruction from an experienced SIV instructor in appropriate conditions.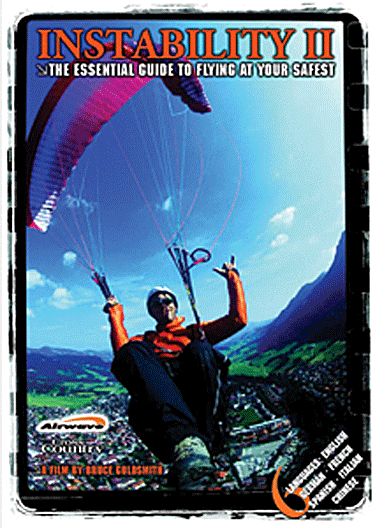 About the director:

In 1991, Bruce Goldsmith co-directed Instability, which became the benchmark film on paragliding manouvres. Bruce is one of the world's most renowned paraglider designers and test pilots, and is also one of the most successful competition pilots of all time: three times British Paragliding Champion, 1999 Serial Class World Cup Champion, and 2004 Vice-European Champion. Bruce is also a columnist for Cross Country magazine and lives with his family in Greolieres, France.
Price £22.95
To order just call 01663 747513 or e-mail