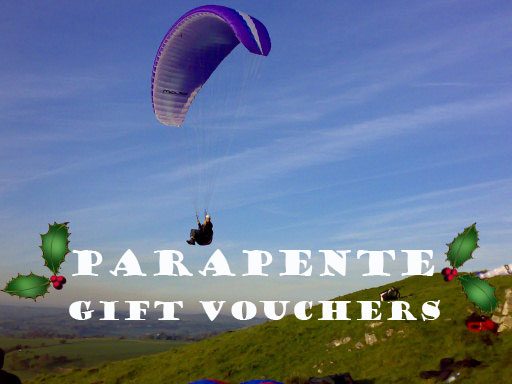 The quality of Metamorfosi emergency parachutes is demonstrated by hundreds of openings, from hang gliders as well as paragliders. The main features of Conar emergency chutes are:
Pulled-down apex: for a given surface area, the pulled down apex reduces sink rate and opening time.
Reversed Apex Cone -Conar patent- increases stability and reduces sink-rate by 20% and opening time by 10%.
Reduced surface area: the smaller surface area increases deployment speed and cuts down overall dimensions.
Reduced weight: the low weight facilitates the throwing action and improves deployment at low airspeeds.
Reduced bulk: gives no trouble when not in use.
Two-compartment chute container: protects the suspension lines and allows canopy deployment only after their complete extension.
Semi-rigid launch handle with safety pins and elastics to prevent accidental deployment.
Plastic-coated aluminium UV protection.
Bridle UV radiation and abrasion protection.
Suspension lines sheath to reduce probability of line fouling during deployment.
Vtab reinforcement of suspension lines attachment.
Easy to replace suspension lines.
Combination of folded-in corners and central tunnel created during folding, enhance correct opening sequence and cut down deployment time.
Pouch design facilitates extraction and holds chute in case of accidental pin extraction.
Premium quality materials:
High resistance, low porosity parachute-grade Nylon® canopy.
Kevlar® canopy structure.
Heat-welded high tensile resistance Nylon® suspension lines for maximum elasticity under load.
High tensile resistance Nylon® braid bridle (approx. 3000 kg breaking load, for hang gliders).

High resistance 8 mm stainless steel "maillon rapide" (5500 kg breaking load, for paragliders).



Hangglider and paraglider versions are available in 4 models: 16, 18, 20 and 22 gores (tandem).
| | | | | |
| --- | --- | --- | --- | --- |
| Model | Number of Gores | Weight(kg) | Surface(m2) | Price |
| Conar PG16 | 16 | 1.6 | 22 | £399 |
| Conar PG18 | 18 | 2.1 | 28 | £449 |
| Conar PG20 | 20 | 2.7 | 35 | £499 |
| Conar PG22 | 22 | 3.2 | 42 | £549 |
In order to choose the emergency chute most suitable to your requirements, have a look at the graph below. To help you visualize the effects of a given sink rate we also calculate the height of a jump wich produces the same impact energy.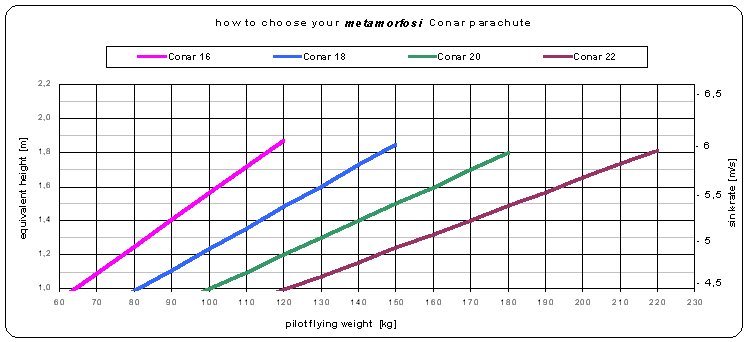 It is very important to achieve the best trade-off between deployment speed and sink rate: a small chute will open more rapidly, but will have a higher sink rate, and you may hurt yourself. On the other hand use of a larger chute will result in a lower sink rate but, if you are flying close to the ground, you risk the chute will not deploy in time. Note that at very low airspeeds, the deployment distance for an 18 gores chute could be even 20% greater than for a 16 gores one.

When choosing your chute keep in mind your age and physical condition. In our opinion with the Conar an equivalent jump height around 1.3 meters would be good compromise, while the upper limit for an atletic pilot would be 1.7 meters. Normally it would not be advisable to drop below 1 metre.

Registered Trade Marks:
Dupont: Nylon®, Kevlar®.
To order call 01663 747513 or e-mail